Paid, SEM & PPC: How to integrate the online advertising techniques to maximize ROI
Maximise search impact with strategically allocated online advertising spend!
Search engine marketing is a broad term that is used to refer to all online marketing business strategies including SEO. However, as the industry continues to open and new concepts came up, this term has a new meaning.
Nowadays, Search engine marketing refers to paid listings and other paid search activities. Some of the most common SEM activities include Paid search ads, Paid Search Advertising, Pay Per Click (PPC), Pay Per Call (PPC), Cost Per Click (CPC), Cost per thousand impressions (CPM), and so on. All these are modern SEM tactics that can be used to enhance your online visibility and promote your brand.
One of the most paid search platforms that marketers rely on is known as Google AdWords. Bing Ads is also favourite, especially among Yahoo users. Paid searches and online advertising are a great way to recruit new customers.
Why SEM matters to your Business;
When a user searches for something online (on Google or Bing), they usually get two types of results;
organic results (free) and
(ii) Paid results (in the form of ads).
A myriad of factors often determines organic results; from the content to the links, keyword and tags, and so on. In other words, they get to the top purely on merit. Paid ads, on the other hand, are paid to find their way to the top.
Now, here's The Thing. There's nothing wrong with getting to the top via merit. It's just that the online platform is hugely crowded.
Every site nowadays has structured content; every website nowadays has mustered SEO tactics needed to attain top ranking. How do you distinguish your site and find your way up there to the top? You purchase ads from the major search engines!
It's perfectly legal and ethical. It's like a symbiotic relationship between your site and the search engines; they give you a top spot, you pay them each time there's a click on your site.
PPC requires delicate balancing;
When you pay per click, you'll pay for every click regardless of the conversion or lack of it. As such, you need to filter your keywords and geographical location so that you attract clicks that are relevant to your business. Below we have compiled a quick guide on how to maximise your search impact without having to dig so deep into your pocket
Have a keyword list; let's say you sell designer handbags in London. There are a thousand and one businesses in London selling the same. For you to stand out, you have to be more creative, specific. Use a keyword like 'Original designer handbags in London' or 'durable designer handbag London' or even 'affordable designer handbags London.'  These prefixes are very effective in attracting serious 'clickers' to your site.
Sample ad copy; a search and copy Ad needs to be concise and compelling. If you're using Google AdWords, you have 25 characters for the title, 35 for the ad, and 35 for your call to action; 95 characters in totals. Be very mindful of how you use punctuations and capitalisation; too much repetition can lead to the flagging of your Ad.
Geographic Targeting; your ad should target specific locations. If you own a local business, consider limiting your ad to show only within a specific geographical area. There's no need for your local pub in London ad to show to someone in Liverpool or Dublin. It'd be a waste of resources.
Strategic allocation of resources;
Like all marketing campaigns, SEM will require you to put aside a monthly budget. Do your research well on the keywords you're targeting. Set a maximum bid and monitor the number of clicks over one month.
If your keywords or ads aren't yielding the desired results, you may need to revise your strategy. Google AdWords and Bing are not your only solutions; you can also try a tool like SiteWit.
This tool has an easy interface and is suitable for small businesses.
Paid searches need to be planned well and sustained in the form of a consistent marketing strategy.
SEM tactics and strategies will suit you regardless of the size of your business. PPC is a smart strategy to boost your visibility online.
With an expert online marketing agency, you can maximize your online advertising ROI. You need the SEM tools and tactics to get traffic to your site.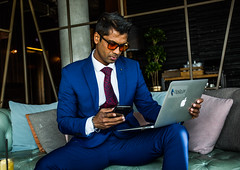 CEO – ClickDo™ & SeekaHost™ | #1 SEO Consultant in the UK | Founder – UK Business Blog | Top UK Blogger