Scentrics is a rapidly growing cybersecurity company with a unique and simple answer to some of the most intractable online problems facing consumers, businesses and governments. Our team of leading academics and developers has invented a one-click solution to security that balances the privacy requirements of consumers with the needs of national security. We pride ourselves on being the first company to solve the once intractable problem of the Man in the Middle attack on consumers.
Headed by Paran Chandrasekaran – one of the original technology entrepreneurs of the 1990's, Scentrics works closely with leading operators globally to bring privacy services to consumers and businesses. Our aim is to make our standards based, seamless encryption solution part of the DNA of the internet.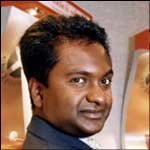 Computer Scientist, entrepreneur and investor; co-inventor of patented tech with Chris Mitchell in field of Cryptography. Founder & CEO, Scentrics – solving issues of global privacy, targeted/ethical big data monetisation; patent pending from John Shawe-Taylor for Scentrics; balancing national security (legal law enforcement) and civil ethics. Former advisor to UK government on encryption policy and early stage Board Member to Prince of Wales' Business Advisory Board. One of the founder members of UK government initiative for CISSP accreditation to allow for market entry of security professionals. Visiting Professor, UCL, Computer Science, Intelligent Systems.