Product Description
HD Roofing Huddersfield is an established roofing contractor and roof replacement company based, as our name would suggest, in Huddersfield. Over the last 20 years, we have built an enviable reputation to become one of the leading domestic and commercial roofing contractors and roofing services companies in Huddersfield and surrounding areas.
HD Roofing is a locally owned and operated roofing contractor based in Huddersfield and is committed to delivering high-quality and dedicated roofing solutions for domestic and commercial clients at competitive prices. Our team of qualified roofers are experienced and skilled to provide reliable and professional roofing contractor services on time and within the agreed budget. As an experienced roofing contractor, we understand that the integrity of any roof is both practical and aesthetic. It plays an important part in curb appeal, as estate agent will tell you, an attractive exterior can make or break a home sale. Clogged gutters can ruin building exteriors as well as the guttering, plus roof algae can prematurely age and damage your roof.
We have maintained our enviable reputation as a 5-star rated roofing contractor in Huddersfield by using the best roofing products to ensure the highest quality of work and to keep our discerning clients happy. We are a fully insured roofing contractor, and all our roofing repair work comes with a full guarantee. We provide a range of roofing services including roofing repairs and maintenance focusing specifically in and around the Huddersfield district.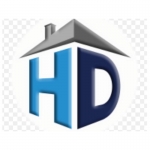 HD Roofing Services is a well-established Roofing Company that has built up an enviable reputation over the last 20 years. We always pride ourselves on our commitment to provide a professional service, whilst maintaining the highest quality of work, we always keep the customer happy. We will match any like for like quotation. We are fully insured, and all our work comes with a full guarantee.
HD Roofing Services is ready to fulfil your specific project's needs. Whether you're looking for a few helpful tips or need an experienced professional to fully manage a project — we've got the tools and experience to guarantee success. We ensure each roofing project is properly organised and efficiently completed to the highest standards using only the best roofing materials on the market today.